If you are looking best rechargeable emergency light to be prepared for any future emergency, then you have landed to the right place. Emergency lights with LED bulbs are quite popular. They offer high light intensity with longer battery life and consume low power. Before buying an emergency light, there are some factors that you should check.
Older days, we used to have CFL base emergency lights. But, CFL lights-based emergency lights now upgraded into LED-based lighting systems for safer, affordable, and efficient power management. Also, Emergency lamps are available in several designs, including rechargeable lamps or lantern, rechargeable torch lights, solar rechargeable emergency lights, inverter bulbs, etc.
Sourcing the web trying to find the best emergency light source for home can be overwhelming as there are so many options. Let us shine some light on your purchase options with our reviews and buying guide on the best list of rechargeable emergency light.
1. Wipro Coral Rechargeable Emergency Light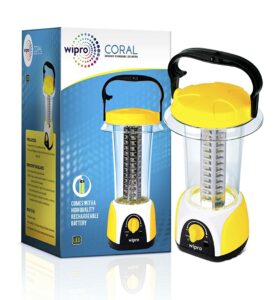 Highlight
Battery Capacity: 3000 mAh.
50000 hours LED life.
6 months warranty period.
8-10 hours recharging time.
Foldable hook for easy usage.
Built-in rechargeable lithium battery.
Cut-off overcharge protection feature.
The Wipro coral comes with built-in rechargeable lithium LED battery life i.e. 50000 hours and makes objects visible clearly at night times or at power cuts. It features 84 LED pieces that are highly efficient, quickly turns on/off (as per the given input) and have a longer lifespan than other incandescent bulbs.
The brightness of a light can be adjusted using the rotary switch. When battery gets fully charged, there is an automatic cut-off protection stops the power supply to prevent overcharging. And when the battery is low, it may take 8-10 hours time to recharge fully.
2. Philips Ujjwal Mini 16-LED Lantern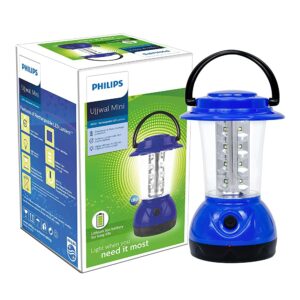 Highlight
Long life lithium ion battery
360 degree light
Bright light with 100 lumens
6 months warranty on the product
Battery Capacity: 2200 mAh
Item Weight: 200 g
Charging time: 4 hours, Utilization time: 4 hours
Philips Ujjwal Plus LED Lantern Emergency light is very handy in size and construction. Philips has a new LED technology that ensures a safe and long-lasting light source. It has overcharge and deep-discharge protection features for safety and prolonged battery life. This rechargeable emergency light has 360-degree rotatable light.
One of the best features of this device is its ability to turn on automatically making it perfectly handy in cases of unexpected power cuts. A perfect and ideal device to be used in study rooms and kitchens, the device has a deep discharge and also comes with an overcharging protection.
Also Read: Top 6 Best Table Lamp For Study
3. Philips Ojas Rechargeable LED Lantern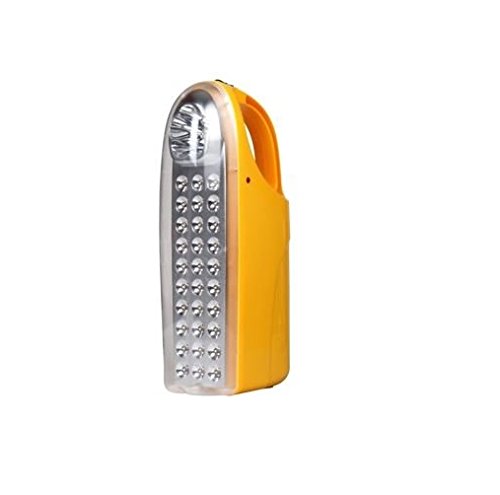 Highlight
Deep discharge and overcharge protection
Ideal for studying and kitchen applications
Back up time: 4 Hours
Charging Time: 8 Hours
Battery Capacity: 2200 mAh
Comes with 6 months manufacturer warranty
Lithium-ion battery for extra-long life
Are you looking for an emergency light, which you can carry along with you? Here we have the Philips Ojas that is going to take care of all the miseries associated with power failures.
This Philips rechargeable emergency light has an auto-start option. It automatically lights up when there is a power cut. It is ideal for studying and kitchen applications. This rechargeable emergency light won't short circuit as it comes with a discharge protection feature. This is our third list of best rechargeable emergency light.
4. Wipro Amber Rechargeable Emergency Light
Highlight
Overcharge and deep discharge protection
3000 mAh of battery capacity.
Made of polycarbonate material.
8-10 hours of recharging time.
Number of LED: 36-pieces
6 months warranty on the product
On the list of best rechargeable emergency light, Wipro amber rechargeable lantern is another popular model that is made of polycarbonate material to withstand in unpleasant conditions, last longer and ensure durability. A robust on/off switch locate on the device makes it easy to operate and handle.
Plugin the power source in charging indicator to minimize the battery usage which is of 3000 mAh. The comfortable handle at the top makes easy to carry from one location to another and can easily be suspended on walls, doors etc.
Also: Best Portable Study Table (Desk) in India 2020
5. Eveready HL-52 Rechargeable Emergency Light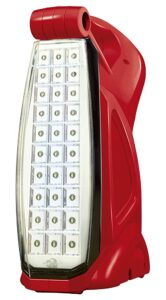 Highlight
6 months warranty on product
15 hours of battery backup time.
Overcharge and discharge protection.
Low, high brightness adjustment levels.
39 bright LED lights for immense glow.
Durable and maintenance-free plastic body.
Auto-start feature to illuminate automatically.
Eveready HL67 is a compact yet powerful emergency light that is perfect for the small rooms or for the frequent travelers who want to have a compact emergency light for the emergencies. Eveready Rechargeable Home Light which mainly focuses on making the lives better and brighter. This rechargeable torchlight is becoming fashionable in every house due to the energy efficient nature and also comes at cheap rates.
It comprises of deep discharge and over-charge protection features to safeguard the emergency light from power failures and other damages. Also, it can rotate in 360˚ with the flexible head to dispense the light in multiple directions.
6. Syska EML-4043 Emergency Rechargeable Light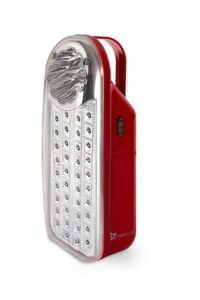 Highlight
Rechargeable emergency light
Charge indicator
Auto switch on feature
Total 49 bright light LEDs
Overcharge and discharge protection
1 year on warranty on product.
Available in 3 color options- Red, white, and yellow.
The list of best emergency lights will be incomplete without adding the emergency lights from Syska. Syska EML-4043 will be a great addition to your home if you face frequent power outage in your area. Syska EML-4043 comes with both a focus light and light panel. The focus light or torchlight portion has 9 LEDs, and the main panel has 40 LEDs.
It is a rechargeable emergency light with 4000mAH battery capacity and overcharge protection. According to the manufacturer, the charging time Syska EML-4043 is around 8-12 hours. The operational time is between 8-15 hours depends on the light output intensity.
Also Read: Best LED Tube Light In India
7. Havells Glanz 1.5-Watt Rechargeable Solar Light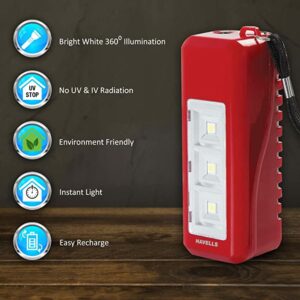 Highlight
Back up Duration: Upto 4 hours
Recharging Time: 10hrs
Bright light with 120-degree illumination
Includes solar light charging
It comes with the maintenance-free battery of 900 mAH.
It is secure to use as it doesn't produce UV and IR radiation.
This emergency from havells light produces sharp brilliance. This 360 degrees light is ideal to use at all positions and perfectly blends with all surroundings. This is environment-friendly equipment as it does not contain mercury. It can be charged via Solar Panel as well as charged with Mobile charge adapter.
It is an attractive product from the list of best emergency lights for home use. It is built with resolute housing material that makes it more reliable. With the long power backup, it grants power alternate in case of power failure or cut. This is the final list of best rechargeable emergency light.
Things To Keep In Mind Before Buying Emergency Light
It is not difficult to determine a rechargeable light. But there are many Chinese lights available in the market that looks wonderful but does not offer a lifetime warranty. So, you should buy the Best Emergency Light that offers specific functionalities. These lights that are water-proof, and need the less number of batteries are the correct choice.
Brightness or Light Intensity
While buying an emergency light, brightness is one of the first and most important features that you should check. The brightness offered by the emergency light depends mostly on the size of the light, type of light used, and the coverage or scope of the beam of light.
The majority of the emergency lights are designed using LED lights. When compared to the regular bulbs, LED lights are considered as 80% more efficient. However, don't fall under a misconception that if the number of LED lights is more, the brightness or the intensity of the emergency light will be automatically more.
Battery
The battery is the source of power for emergency light. In this, power is stored for operation during power outages. Several types of batteries are available, including Sealed lead-acid batteries (the same type used in cars), Nickel-cadmium batteries, Lithium-Ion, and Nickel-hydride. Each has different purposes.
But the most used battery is a Lithium-ion battery. The presence of these batteries in the modules gives rise to one of the best emergency lights.
Better Charging Time
Battery charging time is another important factor that you should check for. Charging time is the amount of time required to charge the battery of the lamp from low to complete charge. While some batteries take a short time to charge the battery fully, others take a bit longer. The average charging time of an emergency light must not be more than 8 hours.
Backup Time
Battery reinforcement time is the duration for which your lamp offers you light with full lighting and without fluctuations. Usually, the average backup of these devices is of 4 to 8 hours. Philips Ojas and Wipro Coral emergency light also offer a good battery backup. Select the emergency light that provides you with an advantage to change the battery.
LED Light Source
An LED is a perfect solution when it comes to emergency lamps. They are enduring and occupies less power when storing energy. The fantastic thing is that it comes in various colours. As per your need, go for a light that comes with many LEDs.
Water Resistance
Water resistance, shock absorption, and dust resistance all should be taken into consideration while you think of buying an emergency light. And all these certainly depends on the material used and the quality of construction as well.
Generally, the water resistance capability is measured by IPX scale. The lower the number in the IPX scale is, the least is the water resistance capacity of the flashlight.
Build Quality
The build quality of an emergency light also plays a vital role when you go to buy one from the market. Selecting the light crafted using cheap plastic might be inexpensive but accidentally, if it is dropped and breaks, you won't find a way out of the dark for sure.
The string build materials assure you of a top-quality device. In addition to the metal emergency lights, you may find a majority of plastic materials having durable and sturdy build on offer.
Also Read: Best Mosquito Killer Machine
Benefits Of Rechargeable Emergency LED Lights
A rechargeable emergency lightening system provides light when the power stock fails. It should be in every home or office.
They give constant lightening and safe to use in the inside of the house.
They are easier to set up and proves to be useful in case of an emergency.
They are portable, lightweight, and easy to carry.
You can replace the batteries of these Emergency Light.
It is used in study rooms or workplaces when there is a power failure.
It has low power consumption and low-temperature performance.
Frequently Asked Questions [Rechargeable Emergency Light]
Q. How long does it take to charge an emergency light fully?
Ans: The amount of time required to charge an emergency light depends completely on the type of battery used. If it uses a lithium-ion battery with 1500 mAh capacity, it might take about 8 hours to charge the battery fully.
Q. What is the difference between solar emergency light and non-solar emergency light?
Ans: Solar emergency light uses solar radiation as the source of power. The solar panel provided on the emergency lights can charge the battery present in the emergency light. In contrast, non-solar emergency light relies on the ac supply for charging.
Q. Do LED Lights Save Power?
Ans: Yes. All the LED bulbs and lights are power-saving. It aims to replace compact fluorescent light, incandescent, fluorescent, halide, high-pressure sodium and halogen lights at your home. They reduce energy consumption by 40% to 80% that depends on the light you take.
Q. What is the difference between Maintained light vs. non-maintained light?
Ans: Maintained emergency lights are generally integrated into the main system and immediately activates when there is a power failure. They are generally non-portable and are amalgamated with a place's power system. These are found in movie theaters or workplaces.
Non maintained lights are used in regular households. They require manual activation. They are portable and mostly held by hands. They are mainly for individual uses.
Q. What kind of lighting is best for living room?
Ans: Lumens: Ambient lighting for a living room should be 1,500-3,000 lumens. Task lighting for reading should be a minimum of 400 lumens.