A massage chair is like a miniature spa set at home, you can use whenever you want. It is a luxury product, a technologically-used mechanical chair, airbags and full body massage functions. Just sit back and relax according to the custom level of massage you desire.
Massage chairs are ergonomically designed mechanical chairs that massage your head, neck, back, shoulders, hands and arms for improving blood circulation and other health benefits. These chairs are portable and allow you to enjoy whole body massage in a wide range of environments.
If you frequently visit to spa or massage parlours then its much time consuming and an expensive affair. Thus, after comprehensive research and testing, we have come up with the Best Massage Chair in India 2022. This will help you get all the necessary information regarding massage chairs, their functionalities, thus ultimately helping you in choosing the best massage chair possible
1. JSB MZ22 Massage Chair Zero Gravity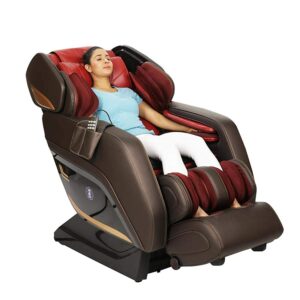 Highlight
3D Technology with L Track Massage
Soft Rollers for Neck, Back & Hips Massage with Heat
Special X-twist Waist Massage for Waist Flexibility
1 Year On Site Door Step Warranty
Zero gravity massage for relaxation
Inbuild Music Connectivity
JSB has been a pioneer in the health and fitness industry for than 35 years. JSB offers a variety of high-quality products ranging from body massager, massage chair sports and fitness equipment and many more which goes through rigorous quality checks and come to you with assured after-sales service.
It is equipped to give powerful 3D back and leg massage functions. It can perform kneading, tapping, shiatsu, knocking, air squeezing, etc with the wide roller coverage on just one button start. Further, it also has an option to target specific zones on the back, perform stretching massage for back and leg, and to relieve body stiffness. It is also fully adjustable you can recline at your comfortable angle.
This is one of the best massagers for elderly people or anyone who struggles with aching feet or stiff calf muscles. It has included 5 different styles of massages alone for the legs and feet. Air-bag leg massage, calf massage, rolling feet massage, ankle lift air-bag massage is intended to reduce any pain and muscle tension in the targeted areas.
2. Robotouch Maxima Zero Gravity Massage Chair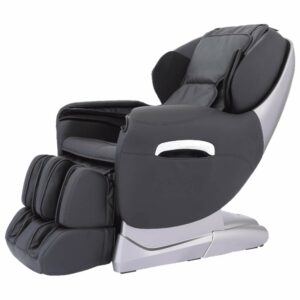 Highlight
Very comfortable and relaxing chair
Assembling of the chair is very easy
1 Year National On-site RoboTouch Warranty
Best Heating and foot massage
Zero gravity seating position
5 levels of speed adjustments
Designed with five types of emulation massage
Comes with automatic detection and micro-adjustment function.
The chair comes with heat pads that automatically emit heat from the carbon fibres at the back of the chair, thus promoting blood circulation and relieves any pain or muscle stiffness in your back or hips.
There are also built-in auto modes like ache relief, comfort, relax, upper and lower body massages that adjust the pressure points at certain areas to give you a perfect massage. The Robotouch massage chair makes very less noise and is also easy to transfer from one room to another using the wheels.
You get 6 various massage modes of emulation massage methods of shiatsu, kneading, tapping, knocking, simultaneous kneading and tapping. This chair emits heat automatically from the carbon fibres placed at the back of the chair. This warms up your back muscles, promotes blood circulation and releases any pain or muscle stiffness from the back and hip regions.
Also Read: Best Mattress in India
3. JSB MZ19 Luxury 3D Full Body Massage Chair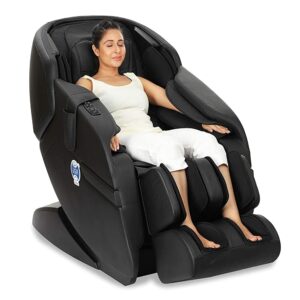 Highlight
Full Body Airbag & Roller Massage
3D rollers for more customized massage
Full Body Pamper Massage
SL Track with Long Reaching Rollers
Full Body Massage Chair For Home And Office
Zero gravity massage for relaxation
Soft rollers back massage and effective heat at lower back
It is an all-rounder model with a solid set of features, great performance and excellent customer feedback. The chair boasts 6 massage styles including kneading, tapping, kneading plus tapping, shiatsu massage, knocking and airbag compress. Some of them focus on chronic pain while some have great benefits for stress and anxiety relief.
There are 5 auto-modes modes to choose from- ache relief, comfort, Relax, Upper and Lower Body Massage, so it is very likely that you will find one auto-mode that will work the best for you. You can save and enjoy any of them in future just by one tap. If you don't like it or if it is too intense you can change the intensity anytime with the remote. Also, there are heating pads in the back to provide a heat treatment.
Most importantly, the machine is adjustable, or to be more specific the intelligent system automatically repositions the rollers according to your height. This also means the customized massage can be utilized by anyone of any age, just find your comfortable position and recline it down as a bed to enjoy a relaxing full body massage.
4. Bodyfriend 4D Massage Chair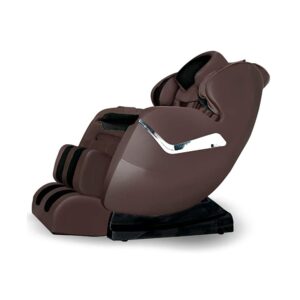 Highlight
Comes with In-built Bluetooth speakers
4D technology Automatic massage chair
Zero gravity massage chair
Hand massage with air-bag pressure
Heat therapy for back, hips and feet
Comfortable and easy to operate
Back Heating Function
On the list of best massage chair in India, this is a full body massage chair with powerful 3D back and leg massage with a luxurious design to suit any home. These massage chairs come in two colour options that can easily match with your home interior.
This recliner full body massaging chair is designed out of supreme quality leather that gives an elegant finish. The footrest is extendable up to 10 inches. The Bodyfriend recliner full body massage chair delivers massage proven to help minimize stress and remove stiffness and tension. Beginning the body scan to match the massage as per individual needs, the massage chairs provides optimal enhancement of wellness and natural healing through expertly guided stimulation of the pressure points.
For those who wish to listen to music while relaxing on a massage chair, Bodygurad has provided in-built Bluetooth speakers in the chair. You can connect your Smartphone or iPad with it and enjoy a prolonged massage therapy while enjoying music or podcasts.
Also Read: Top 5 Bestselling Gaming Chair In India
5. Carefit Zero Gravity 4D Zacare Massage Chair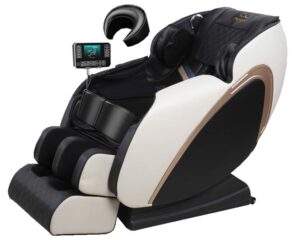 Highlight
4D Technology Automatic Body Scan
Multiple Air Bags in all parts of the chair
Zero gravity Heavy Duty Chair
Item Weight: 130 kg
Real Super Long SL Track Massage Length
Bluetooth Music Play & Intensity Control
The Carefit Zero Gravity 4D Zacare Massage Chair has the zero gravity feature, which is beneficial for the ones suffering from spine-related problems. This massage chair has a curved track of 1450 mm called SL Track, which follows the spine's sinusoidal curve.
The S-track's extension reaches to the top of the hamstrings. Both the back and foot rollers provide an effective full body massage. The rollers are moved along the track left and right, or up and down for offering a deeper massage. The 4D Technology Automatic Body Scan scans the height of the user.
After scanning, the rollers are adjusted accordingly to reach all the body areas. This massage chair has multiple airbags in all of its parts. You can also control the intensity and play music via Bluetooth. This is our final list of best massage chair in India.
Also Read: Best Space Saving Folding Bed In India
Features to Look Out in a best massage chair in India
Zero Gravity Massage Chairs
Zero gravity is a technology invented by NASA, you will feel like an astronaut when in this special reclining chair. Zero Gravity Massage Chairs increase the flow of blood in the body, increase lung function, remove the power to the spine, massage the neck and back to help you relax completely.
Reclining Massage Chairs
It will be like a luxurious chair, a massage chair that looks like a professional spa table that brings comfort to your home. Other important factors of the reclining chair are the instructions for using the automatic reclining function without any adjustments.
Shiatsu Massage chairs
One of the most popular and most effective massage techniques, used with the hands, palms, and thumbs against specific stress points. This technique promotes relaxation and muscle relief. It is achieved in a massage chair by the rollers and the airbags
Body Scan Technology
This feature lets the chair customize the massage according to user's requirements. As people have different body structure, this feature will scan and detect the body position in the chair. It uses sensors to detect the spine curvature and tensed area. After this, the roller will be moved according to the information detected by the body scan technology.
Vibration Massage
While high-end full body massage chairs are specially designed to reach down to your buttocks, lower-end models would only reach as far as your lower back. These models use a vibration seat to work your buttocks and legs' muscles.
Reasons Why You Should Use A Massage Chair
Massages are something that we think of as a luxury. We think that only people who are really rich or who have too much time on their hands get massages.
But we need to stop thinking that way. The reason is that massages are incredibly beneficial for our health. In fact, I suggest everyone to get a massage at least once a week.
1. Stress Relief
Today's work schedule so packed, that most of use are stressed up mentally and physically. This daily stress can take a toll over your work, relationship, or commitments. It's impossible to go to a massage centre or a spa daily to get a massage done.
Thus, buying a massage chair a good stress relief option. With this, you can get a massage daily at the comfort of your home. Studies say a daily 20 minutes massage releives stress, unwind the mind, body, and soul, and rejuvenate the body from deep inside.
Studies show that getting massages relieves you of stress. This gives you more energy and thoroughly improves your outlook on life.
2. Improved blood circulation
After you use a massage chair for a while, you find that your blood circulation has improved. You can tell because you feel more active and awake. This is a common side effect of a massage, and it works especially well with the Zero Gravity massage chair function.
This is an especially good advantage for people who don't get enough exercise, or who can't leave the house often. Getting a regular massage will make you feel more active and it will get your blood moving. Massage chairs have some basic features that give you an idea of how they work. Here are some features that you'll find. Not every massage chair will have all of them this is just a general list.
3. Chronic pain relief
The reason for choosing these massage chairs is that you can get rid of chronic pain, joints, neck or back, which will help you get the full treatment at any time, without having to go to the clinic or spa.
4. Better posture
There is a significant discussion about how massages can lead to better posture. This is certainly true if it's done in the right way. When you're getting a massage, posture is an important focus. And massage chairs are well-versed in this.
Using a massage chair regularly will make you feel more relaxed and flexible. This leads to improved posture. You'll find that you sit up straight, don't slouch, and don't roll your shoulders forward. All of these happen by specific techniques present in all the massage chairs listed here.
5. Relieves Headaches
One of the least-known benefits of massages is that they can get rid of headaches. A study in 2009 found that massages decrease the severity and frequency of tension headaches. A tension headache is a mild to moderate headache that many people experience. It feels like a tight band is being wrapped around the head. About 21% of the entire world population is affected by tension headaches.
6. Benefits You Mentally
Massages are great for relieving mental health problems like anxiety and depression. They're no substitute for therapy, but they still in dealing with the problems. The reasons may surprise you. A study finds that human touch in a safe, friendly, and professional manner is therapeutic for the mind. It's found to help people with their depression and anger issues.
This is partially connected to stress. Since massages decrease your stress levels, this also helps with managing depression and anxiety. It's also about your generally mood and happiness. Combined with a healthy lifestyle, massage therapy is a great mood improver.
Things To Keep In Mind Before Buying Best Massage Chair In India
Usually, we think hard whenever purchasing is involved. However, when it involves something like Massage chairs those are quite expensive equipment. If invested in a wrong one, then it's a total waste of your money. So, you have to be very careful and attentive while purchasing them. To help you out, we have mentioned several important features below.
Chair Size and Space
Being heavy in size, massage chairs take up a lot of space. So, check out the instructional manual or product description for its dimensions to understand how much space you have to allocate.
As some massage chairs have reclining feature, you should make sure it has free space around it. Usually, massage chairs need 18 – 24 inches' clearance between its back and wall adjacent to it.
Weight
Usually, most of the massage chairs are quite heavy. So, you may need another person's help to move it around. However, some light weight options are available. Minimal massage chairs weight around 20kgs and heavy weight massage chairs weigh around 45 to 140kgs.
Massage Rollers
Some massage chairs, usually the high-end ones, use rollers to provide a pleasant and comfortable experience. Massage rollers are specially designed to simulate the movement of the human hand. These rollers would slide upwards, downwards, toward the right and the left of your back, producing a soothing and comfortable massage. The rollers' action is very relaxing, and it stimulates your back's blood circulation.
3D Massages
3D massages offer more depth than a standard massage. To achieve this sense of depth, high-end massage chairs use the combined actions of rollers and airbags. The airbags fill with air, so your whole body would be covered by them.
This is a great feature, as it provides an immersive feeling to the massage. This type of massages is more relaxing and more enjoyable than the usual ones.
Music Connectivity
The main purpose of a massage chair is to get relaxation. And what better relaxation you can get than listen to your favourite music all the same time. This spa-like experience is made possible by the use of a Bluetooth music player.
Bluetooth Compatibility
Nowadays Bluetooth compatibility is a must and massage chairs do not disappoint in this regard. You can sync your smartphone or music system with the massage chair and access your favourite songs or podcasts directly from the built-in speakers.
Special Techniques
Manufacturers try to attract customers by implementing special techniques. These techniques vary according to each model, but some of the most popular are heated massage, reflexology, spinal relief, yoga, muscle stretch, and combo. Each of these techniques has its own advantages.
Portability
Some massage chairs are portable. They weigh less than other models, and they have casters. You can use the casters to move the chair from one room to another, which can be an advantage.
Size Compatibility
If your height is over 6 feet or above, then you should be extra careful while purchasing a massage chair. Though some manufacturers claim to fit certain height requirements, they often don't provide what is promised.
People often complain that rollers didn't hit the exact spots they are meant to (like shoulder, hips or shoulders). And some felt uncomfortable to sit on the massage chair. So, check out the height specifications before purchase to prevent any such situations.
FAQs [Best Massage Chair In India]
Q. How Much Does the Massage Chair Weigh?
Ans: Generally, the massager chairs are heavy in weight and can usually weigh around 20 kgs to 50 kgs or sometimes even more.
It is also advised to check the height and weight limitations of the chair before actually purchasing it. Do note that some massage chairs are only suitable for tall people.
Q. Can I use a massage chair everyday?
Ans: Yes, you can use it everyday but limit it to 15 to 30 minutes, not more than 2 times a day. Though the massage chairs do good to you by promoting blood circulation and relaxing your muscles, prolonged use may lead to inadvertent results.
Q. What is the price of a massage chair in India?
Ans: The best massage chair price in India starts from Rs.50000 and goes up to Rs.3 lakhs depending on the brand value and features.
Q. How efficient is the heat therapy in the massage chairs?
Ans: Heat therapy provides relaxation to the muscles by producing enough infrared heat that is evenly distributed throughout the body or certain targeted areas.
There is also the auto-shutdown option that prevents the massage chair from overheating, thus keeping you safe.
Q. Are massage chairs worth the money?
Ans: Yes, massage chairs are worth the money. Even though they fall on the expensive side, the benefits and the functionalities they offer can be worth. Be it relaxing the muscles after a stressful day or getting relief from back pain, massage chairs are there to help you make your life easier and better.
Q. Which brand of massage chair is the best?
Ans: JSB, Robotouch, KosmoCare, Osada, Bodyfriend are some of the best brands for massage chairs in India. Among them, JSB is the most trusted and best-selling brand. JSB massage chairs are known for their excellent build quality and advanced features.
Q. How much electricity does a massage chair use?
Ans: A massage chair does not use a lot of electricity. Their power range is somewhere between 300-500 watts. So, you can expect it to consume around 2kwt of energy in a week.
Q. How long do massage chairs last?
Ans: A massage chair is a lift time investment. They generally have high-quality features and a sturdy body. So, they would last you for good 12-15 years or even more.
Q. Is it safe to use a massage chair when pregnant or have a pacemaker?
Ans: Studies show that there are no known adverse effects of using a massage chair when implanted with a pacemaker. However, it is advisable to check in with your doctor to be on the safer side and limit the period of usage. The same holds good for pregnant women.
Q. What massage techniques do massage chairs come with?
Ans: Massage chairs usually come with an option of choosing a particular technique or a combination of them depending upon the consumer. The most commonly incorporated techniques are that of kneading, tapping, Shiatsu, rolling and air massage.