In today's world, with so many options available, it can be hard to decide which is the best mop in india for your needs. However, there are a few key factors you should consider before making your decision. The first thing to consider is the size of the floor. Some mopping products are designed for large floors while others are more suited for smaller ones. The next factor to take into account is the cleaning power of the mop.
Cleaning floors is seriously very messy, boring and tiring house tasks, which is something you cannot avoid to keep your home neat and clean.
If you are someone who still uses traditional cloth mops to clean your home, its high time to adopt the change. This will not only save your time during the cleaning process but would also deliver better results.
Also, these mops are designed in a way that helps to speed up the process of mopping. The modern mops make mopping hassle-free and straightforward.
Cleaning the floor is one strenuous task, but using the right equipment such as the best spinning mop can make things easy. The spinning mop helps to dry and clean the floor with the least of effort. Here are the list of best spin mop in India for effortless and easy cleaning of the floors.
1. Spotzero by Milton Elite Spin Mop
Highlight
Unique microfiber cleaning technology
Lite Spin Mop with Microfiber Refill
Separate cleaning & wringing operations
1 year Manufacturer Warranty
Light in weight, easy to move around on sturdy wheels
Durable & non-abrasive with superior water absorbency
This Spotzero Elite Spin Mop from Milton comes with a twin bucket system – one of which can be used for drying the mop, the other can be used to dip the mop into soap water.
This spin mop set comes with a microfiber cloth which is non-abrasive and lint-free. Additionally, the spin mop set comes with a refill of the microfiber mop head for easy replacement when the existing mop head wears out.
This multipurpose mop is both useful as well as environment friendly in nature. Its unique microfiber cleaning technology makes it highly durable and long-lasting. With superior water absorbency and non-abrasive lint free fibers, this Elite Spin Mop works well on large surface areas, for the purpose of dry and wet cleaning.
2. Prestige Clean Home PSB 10 Plastic Magic Mop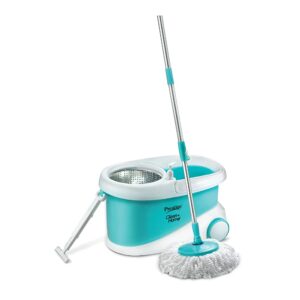 Highlight
Steel rod for easy movement
360 degree stainless steel spinner
Pulling handles and wheels
Comes with 2 mop heads
It has 2 steel rods for height adjustment
6 months warranty on product
Prestige is a well-known brand in India. Since many years, prestige has been manufacturing and marketing several cookware and kitchen equipment. It is strong, light, and simple to use as this mop is made of top evaluation plastic. It has an arrangement container and inbuilt rinser so you can utilize the perfect measure of arrangement and water.
The 360 degrees spinning function ensures a thorough cleaning of all the floors and corners of your rooms. The mop comes along with a twin bucket made of lightweight but high-grade durable plastic. It has a capacity of 7 liters. Two extra absorbent microfiber mop heads are provided as a part of the product.
Also Read: Best Rechargeable Emergency Light
3. Gala e-Quick Spin Mop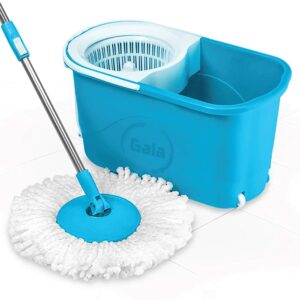 Highlight
Stronger and longer handle
360 degree cleaning
Telescopic Extendable Handle
Carry your bucket along with easy wheels
Comes with 1 year warranty
Microfiber Power Performance(deep cleaning)
Made of cotton microfibers (super absorbent capacity)
Gala is one of the leading home cleaning tool manufacturers in India. It brings the flagship model of bucket mop.
This quick spin mop is made in India and is designed by considering customer's needs and convenience. It features super spin system so you can quickly dry the refill.
It comes with microfiber refill which is super absorbent for better cleaning performance. It can easily reach deep areas like under furniture with its 360 degree movement. You don't have to get your hands dirty as it can easily remove the dirty water. It also has quick lock mechanism which improves convenience and also helps in cleaning mop in itself so it can be locked well. This is our 3rd list of best cleaning mop in India.
4. Scotch-Brite 2-in-1 Bucket Spin Mop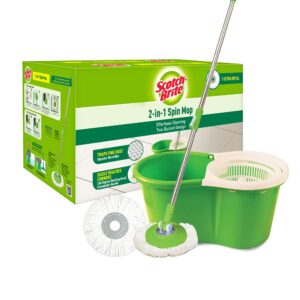 Highlight
360 degree telescopic handle
Twin Bucket Spin Mop for easy wringing
Microfiber refill is superior and durable
It comes with 2 Microfiber refills.
The bucket is durable and handy.
It has good water absorption and retention properties
On the list of best mop in India, another one is Scotch with a durable yet lightweight 360 degree telescopic handle it can easily reach inaccessible corners and under furniture. The handle is height adjustable and helps you to reach nooks and corners of your house.
The twin bucket mechanism enables you to wash and wring the mop head easily without putting your hands into the dirty water. Made up of high quality plastic the bucket is light in weight and easy to carry while mopping. The spin mop head is made of microfiber with large surface contact and can trap fine dust to ensure efficient cleaning. The mop set comes with dual microfiber refill, thus grunting long lasting.
Also Read: Best LED Tube Light In India
5. Esquire Elegant Spin Plastic Mop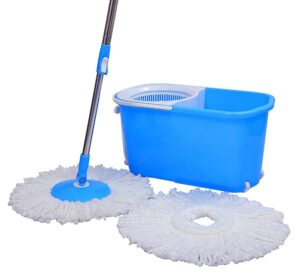 Highlight
A longer handle for easy cleaning.
Good quality puller handle.
Comes with 1 year warranty
Budget Friendly price
It has a super absorbent capacity.
Adjustable handle to suit any height
Amazing microfiber refill for super absorbent.
Another list of best mop in India is Esquire elegant spin mop is an excessively spongy mop for proficient and very quick wet and cleaning more than ever.
The handle with its adjustable features helps in making it comfortable to handle. The mop handle can be adjusted for easy use as you can rotate 45 degrees to 180 degrees.
It is sliding handle with large wheels at the bottom of the bucket is designed for easy moving from one room to the next while cleaning. The spinning mop is suitable for both dry and wet cleaning on the floor.
6. Eco Alpine 360 Degree Magic Spin Mop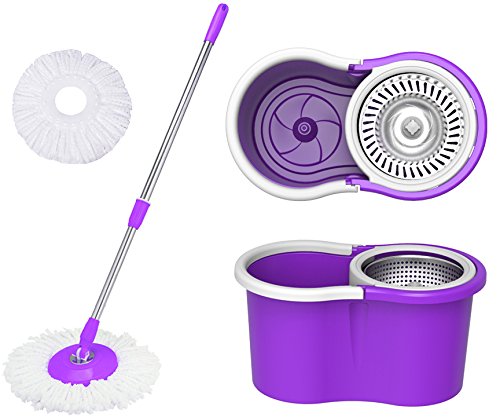 Highlight
High absorbent microfiber refill
Easy to assemble and use
Extended handle with a lock
Hand press telescopic cleaning and drying
360 degree rotating mop for complete cleaning
Eco Alpine is well known for providing wide range of floor cleaning mops. All their products are well reputed for not only being effective but also for its high quality.
The rod length can be pulled upto 4 feet. Due to this, anyone can easily use it. The 360-degree cleaning feature makes the cleaning process simple. It allows you to clean dirt from even the acute corners of the house. The handle on the bucket makes it easy to move it from one place to another during the cleaning process.
The quick lock system on the handle of the mop is useful in cleaning of the mop itself. This spin mop works well with different types of flooring like tiles, slate, wooden or even linoleum. Its super spin system dries out the mop faster and it comes in a two-tone modern looking finish as well.
7. Gtc Spin Floor Cleaning Easy Bucket Mop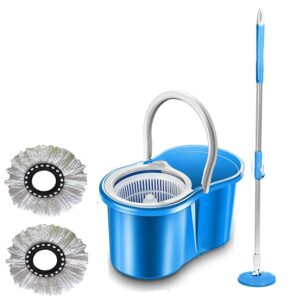 Highlight
Micro fibre refill with super absorbent capacity
360 degree rotating cleaning
Smart design to save space
It has durable washable spin mop pads
A decent product with an amazing trendy looks
Twin bucket spin mop to separate dirty and clean water
One of the leading manufacturers of home cleaning tools, GTC brings Twin Bucket Spin Mop which is compact enough to save space. It helps separate clean water and dirty water so you can have great cleaning experience. It has super absorbent microfiber refill for best cleaning performance.
It has 360 degree water outlet and rotating mop head to remove dirty water easily. It saves space with smart design and comes with dispenser to make mopping an icing on a cake. Split the twin bucket mop and keep it once cleaning is done. It will take only small space just as regular bucket does.
Also Read: Best Rechargeable Fans In India
Different Types of Cleaning Mop In India
1. Flat Mops
The flat mops are the most popular types of floor cleaning mops. For daily cleaning routine, of small spaces, these are very ideal. The design includes a flat, elongated, and rectangular head that comes along with the reusable or disposable pads. The best part is that these mops are not very expensive.
2. Steam Mops
These types of mops need electricity to produce steam. The steam is released from the mop head over the floor where we are cleaning. In this mops, the best thing is that you don't need a cleaning liquid for proper disinfecting. The steam assures that it properly disinfects the surfaces that you are cleaning.
3. Spin Mops
Spin mops come with a combination of a traditional mop along with a bucket. The bucket is equipped with either a foot pedal or a hand pedal for hands-free wringing action. This type of mops comes with adjustable telescopic handle and is much popular when cleaning a medium area, like a house.
4. Microfiber Mops
Microfiber mops are the latest variety of mops. They are excellent because of their ability to absorb more than even a sponge. These are hybrid mops that are made up of microfiber strands. The best part about microfiber mops is that they are straightforward to clean, whereas the sponge mops are challenging to wash correctly.
5. String Mops
The string mops are the traditional ones with a long handle and looped cotton strings as the cleaning head. These have excellent absorbent capacity and performs very well in cleaning floors. But on the downside cleaning and maintenance of these mops is quite difficult. Washing and drying them is a pain.
Buying Guide – Best Mop in India
Before buying a perfect spin mop we need to look for some features in it that make it the perfect match to our needs. For effortless cleaning, having a perfect mop is a must, so before buying, consider the following features:
Type of Mop Head
We need a product that is not only long-lasting but also highly effective. Opting for a mop that comes with less durable mop head might be cheap but it would not last long and soon you'd have to look for another mop.
Ease of Use
Whichever mop type you choose, it must be easy to use. If you have backache issues, choose the mop that comes with the long handle and a trigger into the handle for wringing the mop head. So you don't need to bend down for squeezing and mopping.
The adjustable handle makes it easy to adjust as per your convenient height option for easy mopping.
Accessories
Most of the mops are now available in a set with extra refills, a handle to pull the bucket with built-in wheels, drainage outlet so you don't have to get your hands dirty and so on. You need to choose the mop which works well according to your needs and has accessories and features so cleaning can be made easy.
Wheels on the Bucket
You do not want to be carrying the bucket around when cleaning, as this will make the task more rigorous. But with the presence of wheels on the bucket, which is a feature common with some spinning mop, you can move the bucket easily.
Presence of Splash Guard
With the presence of the splash guard, you can avoid water from spilling on the floor or your body. It helps make cleaning easy as water will not spill on the floor where you have clean already.
FAQs [ Best Mop In India]
Q .How to clean a dirty mop head?
Ans: First rinse the mop under the water until it runs clear. Then place the mop in a bucket containing hot water. Add a cup of bleach into it and let the mop soak for 10 minutes. Rinse again under water and let it hand dry. Instead of bleach, you can add a cup of vinegar.
Q. How do I stop my mop from smelling?
Ans: There are a couple of ways to stop the mop from smelling but the first thing that you need to understand is that the mop smells mostly because of the bacterial accumulation. In such a case, to clean the mop, you can soak it in cleaning liquid along with antiseptic liquid after every 4 uses.
Leave it soaked for 10 minutes then dry it. If this doesn't seem to be working for you then soak the mop head in a bucket of bleach and water. Leave it there for 10 to 15 minutes and dry it off in direct sunlight.
Q. Would we be able to use the Spin Mop in Dry just as Wet Condition?
Ans: Without a doubt, the turn mop head is made utilizing a delicate microfiber material that may be used on a few sorts of surfaces denied of influencing any scratches. You may use it like as a wet mop as well as in addition, a dry mop to dispose of pet's hair and residue. It should be used like a vehicle mop.
Q. Are there Any Product Warranties on Offer?
Ans: Yes, most of the brands offer a warranty on their product varies from 6 month to 12 months. The time of guarantee is going to cover the item against blemishes connected to assembling and materials. You should use the Spin Mop in concurrence with the rules given in the client manual.
Q. Can I machine wash the mop head?
Ans: The microfiber head of those mops which are detachable can be easily machine washed. Dirty and smelly mop heads should be thoroughly washed under the water. The mop heads can be soaked in water with a cup of bleach or vinegar added to it. This removes the unwanted foul odour even after mopping. After machine wash dry the mop head in direct sunlight.
Q. What makes a spinning mop comfortable to use?
Ans: Most people are very concerned with the length of the spinning mop and how can the mop be adjusted to be used comfortably. You should check the features of the spinning mop and ensure that the handles are adjustable and can be adjusted to suit any height effectively.
This is one of the features that are important if you want to prevent backache and pain in the wrist when cleaning. The handle should be adjustable and can be rotated to make it convenient when cleaning.
Q. How often should you replace the mop head?
Ans: While it is recommended to replace the mop head when it is completely unusable, but for best results, it would be advisable to replace it once every two to three months. If the mop head appears dirty even before that period, you can replace it even before.