Households are incomplete without a kitchen and one of the most important equipment for any kitchen which is kitchen hobs or a cooktop burner. Kitchen hobs are relatively new in India but are getting increasingly popular. With the trend of modular kitchens on fire, the first thing on people's minds is a perfect hob in kitchen which complements their kitchen and where to find the best gas hobs in india.
Unlike, the ordinary gas stoves they come with more powerful burners for making phulkas, parathas or chapattis with strong support grills to hold the heavy Tawas, big kadhai and pressure cooker. They also come with multiple burners with different powers, sometimes 5, to help you cook verities of dishes at once.
They are comparatively easier to clean with their simplistic design and a right burner will also cut down on total gas usage. With the newest models in the market comes with some advanced features like auto-ignition, flame failure detection, 360 rotating knobs, safety-lock etc.
Today, there are multiple models of kitchen hobs available in the market. They have different uses and functionalities. This makes it very difficult for the buyer. However, you don't have to worry. Here we have done comprehensive and made list of 7 best gas hobs in India.
1. Prestige Schott Glass 3 Burner Gas Stove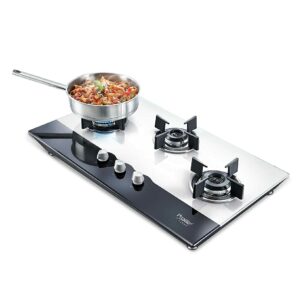 Highlight
World's slimmest cooktop
Can be used as a gas stove or a hob
Elegant design with Schott glass
Advanced one-touch auto-ignition
Provides uniform heating
One-touch auto-ignition enabled burners for hassle-free cooking
2 years on product and 10 years on Schott glass
Made from premium quality cast iron to provide durability and maximum stability
The brand Prestige is a very common brand in Indian household. Their Schott glass stove model is for people who want to add elegance to their kitchen interiors. Along with that, this gas hob provides amazing performance. This is designed to be the world's slimmest cook-top. However, the unique convertible design allows you to use it both as a gas stove or a hob.
It features easy set up with dual functionality i.e. use it as a free-standing stove or in-built hob as per your convenience. Moreover, it has excellent thermal and mechanical shock resistance ability. Thus it is extremely durable and safe.
The hob top has 3 imported burners from Sabaf, an Italian brand famous for making household cooking appliances, which are exceptionally designed for preparing Indian dishes. They produce uniform heat and provide better cooking result using less amount of gas.
Using high-quality cast iron pan supporters, it ensures durability and stability for holding cooking pan and pots. Like any other advanced hob, it also features auto-ignition facility. The continuous spark technology flames the stove instantly as you twist the knob for a smooth and safe ignition.
2. Elica Three Brass Burner Cooktop Hob

Highlight
Flame failure device
Great performance
Guided flame technology
Space-saving square shape
Extremely easy to use and maintain
2 Years Warranty on Burners & 5 Years on Glass
High-quality brass burners for better efficiency
Elica is relatively new in the market but has made some of the best quality kitchen chimneys so far in India and their kitchen hobs are no different. The brand has many models in the field that are extremely popular among the buyers and have been doing well in the market.
The burners are surrounded with cast iron pan supports. They support and stabilize the pans or other cooking utensils of various sizes for uniform heating. It is fitter with premium quality metallic knobs which turn 360 degrees without any friction. The product comes with two mini triple ring brass burners and one larger double ring brass burner.
Talking about the gas hobs, the Elica 3-burner cooktop hob is a perfect buy in every aspect. In addition to the brilliantly spaced brass burners, reliable knobs, and cleverly thought of dimensions, this is a perfect addition to your kitchen and will provide it a perfectly modern look.
Also Read: Best Electric Rice Cooker in India
3. Sunflame Hob Glass Top 3 Burner Gas Stove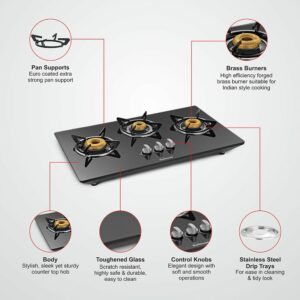 Highlight
It has a strong and sturdy design.
Countertop hob can be easily cleaned.
2 Years warranty on the product
It is equipped with 3 gas burners for faster cooking.
Has an extremely durable toughened glass body.
Reliable brand name and after-sales services
Euro Coated pan support for better durability
If you are looking for a reliable and easy to maintain gas hob that has all the advanced features along with a durable design and a great brand name, then Sunflame would be the best option for you. It is counter-top hob known for its stylish and elegant looks coupled with a sturdy design which make it the perfect equipment for any modern kitchen.
This three-burner countertop hob from SUnflame is a popular product amongst the buyers and most of the buyers who are looking for a stylish and sleek gas hob that perfectly fits the kitchen interiors. Along with the design, the durability of the hob is what makes it an ideal product to go with for almost every homeowner.
Another best aspect of this Hob comes with High-Temperature Resistant Pan Supports. It has a long-lasting performance for many years without any maintenance because of its Special coating that does not allow peeling. Stainless steel control knobs help friction-less 360-degree rotation and easy to control LPG flame speed, and it 100% ensures no LPG leakage.
4. Whirlpool Hob 4 Burner Auto Ignition Gas Stove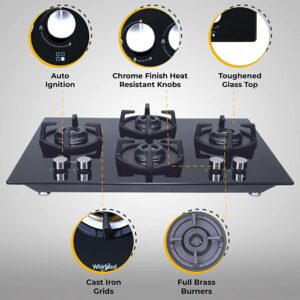 Highlight
It comes with Heat Resistant Knobs
High-efficiency multi-ring burner
Suitable for Indian cooking needs
Heat resistant knobs
Durable materials
It offers 10 years warranty
Whirlpool is one of the leading company in home appliances market. Their gas hob range has some modern and innovative technology models.
It has everything that you could ask for from a gas stove. This gas hob is designed in such a way that it doesn't take much space over the kitchen platform. So, it is perfect for home with small kitchens. It comes with 4 burners which makes it perfect for medium to large families. These burners offer multi-control flame at high efficiency, making it perfect for Indian type of cooking.
Beautifully designed knobs comes with auto-ignition. So, you don't need any extra help with matches or lighters to turn on the gas hob. These knobs are heat resistant so that can handle the heat generated by the burners.
Toughened glass is provided to this gas hob which adds more elegance to your granite kitchen platform. The glass is heat resistant, so it will last for several years with proper maintenance. It comes with 10-year warranty is provided by the manufacturer on the toughened glass and 5-years warranty on brass burners and gas valves.
Also Read: Best OTG Oven in India | Buying Guide – 2022
5. Glen 4 Burner Built-in Glass Hob Double Brass Burners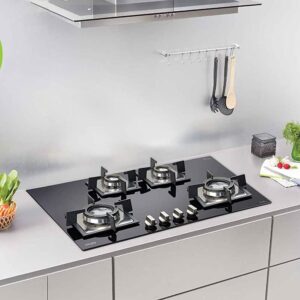 Highlight
Equipped with the thick 8mm toughened glass top
Offers 4-burner arrangement to match Indian cooking
Comes with the matt steel drip tray for easy cleaning
Integrated multi spark auto ignition
Double ring forged brass burner
Provides 2-year manufacturer's warranty
On the list of best gas hobs in India Glen is Built-in Hob comes with Forged brass double ring burners specially developed for Indian cooking. It comes with the 8mm toughened glass-top that is completely anti-scratch & effortless to clean. Offering a 4-burner arrangement, this kitchen hob has 2 small and 2 big burners to deliver unmatched convenience.
It has extra strong enamelled MS pan supports which easily accommodate large and heavy vessels. This kitchen hob's matt steel drip tray is going to help you effortlessly clean the spillage. Supported with the multi-spark inbuilt automatic ignition, this kitchen hob also comprises the top-quality Italian gas valves for overall safety.
The dual-purpose kitchen hob can be used as a built-in hob or a free-standing hob by simply removing the legs. 2-year warranty is provided by the manufacturer on this product. This is our Fifth list of best gas hobs in India.
6. Bosch Built-in Gas Hob Glass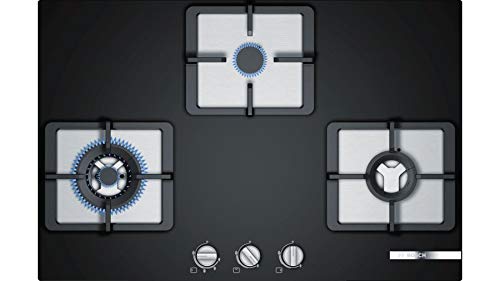 Highlight
High-quality SS frame.
Easy to use and clean.
Sword control knobs.
Auto Ignition gas stove
Highly durable build quality and efficiency
2 years Comprehensive warranty
Bosch is one of the trusted brands in the market. Its kitchen appliances are managing many houses. This kitchen hob from Bosch is also very stylish and sleek.
In all, if you were looking to buy a perfect gas hob that works efficiently, requires lesser maintenance than most of the other brands available in the market, and has a top-notch build quality, Bosch Gas hob will be a perfect choice to go with.
This rigid glass device adds charms to your kitchen. Its sleek, slim design allows you to clean it with trouble-free. The surface is corrosion and scratch-free. It has 3 burners, just like the above one that can handle multiple dishes together.
The burners also come with steel holders that give proper handling. Using this hob is quite easy. The two burners have a maximum power of 1750 W, one has 330W, and the one comes with saving power of 1000W. This is our sixth list of best gas hobs in India.
Also Read: Best Washing Machine Under 20000
7. Seavy 3 Brass Burner Built-in Hob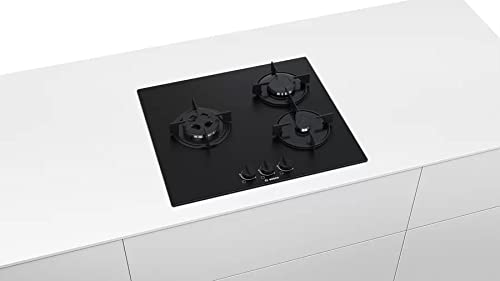 Highlight
Aids efficient and quick cooking.
Easy to maintain and clean
Auto ignition ensure steady flame
It has good quality Italian burners.
2 years Comprehensive warranty
The cooktop has an aesthetic design.
Offers excellent heavy pan support.
If you are looking to buy an affordable and easy to maintain gas hob that looks classy and has all the features that are essential for the Indian home cooking, then Seavy 3 burner gas hob top will be a perfect product to go with.
Along with the great design, there are a few intelligent tweaks made by the brand to make it a worthy buy for the users. Some of these tweaks include the high-end toughened glass top, high-quality brass burners, and a perfect auto-ignition feature that works pretty well every time.
The uniquely designed pan support work efficiently for the Indian utensils and you can easily place the heaviest utensils in your kitchen to cook food perfectly without any worries about putting an extra burden on the hob top. This is our final list of best hob in India.
Types of Kitchen Hobs
Gas hobs
Cooking on gas is probably what most people are used to. These hobs have been around for a long time and are often quoted as being the chef's choice as you get instant heat and flame cooking ability.
They have mains with the button ignition feature to turn the hob on/off. They can easily be removed for cleaning purpose and also controlling them is very easy.
If you use the wok regularly, the ideal hob for you will be the one with a high-powered wok burner. Another good thing about Gas hobs is that they could be easily dismantled for cleaning.
Gas on Glass hob
In gas on glass kitchen hobs, burners are mounted on the top of the glass, making the surface smooth and easy to clean. Burners get heated up very slowly but still, you get the required heat and control just like a normal hob.
The glass surface is easy to clean and retains its new look even after a long time. These are good choices for home kitchens. While buying make sure you get a toughened glass material that lasts for years and also comes with a warranty at an affordable price range.
Electric ceramic hob
This type of hob is placed below the ceramic glass surface. They come with a safety device that prevents the ceramic glass from overheating.
Ceramic hobs are becoming increasingly outdated as they are outstripped by modern technology. The time it takes to heat or change the temperature on the element is much longer than gas or induction.
Electric Induction hobs
Induction Hobs are slowly gaining popularity in the Indian market and nowadays they are considering as best hobs in India because they are not only easy to use but are highly energy efficient and extremely easy to clean.
The best part about this kind of hobs is that the coil gets activated only when the iron-based magnetic pan is placed on it and immediately cools down when the pan is removed.
As there is a huge demand in the market, check whether it matches with your requirements like-fast cooking by consuming very less power.
Also Read: Best Induction Cooktop In India
Buying Guide For Best Gas Hobs In India
Space
This is the most important factor to look for. Verify the dimensions of the hob on the product description page and check if you have enough space for the same on your kitchen platform. Remember, always have more space than required for installation. This will help you work better in your kitchen
Burner Material
Having a burner made out of brass will ensure it will last you for years. However, I made an exception and selected Bosch as the best product on this list as it has that extra safety feature. Being safe is more important. Commonly, two types of Burners sell the most:
Brass burners
Aluminum burners
Brass Burners: These burners resemble in colour with gold. Brass, being an alloy is a good conductor of electricity. These burners are resistant to corrosion and are very durable. They are suited to both indoor and outdoor usage.
Apart from this, brass ensures that there is uniform heat distribution. They are priced relatively higher than the aluminum burners and are often used by best gas stove companies in India.
Aluminum Burners: These burners cost less than the brass ones. However, by no means, this type of burner is less capable than the former ones. But their major disadvantage is that their resistance to corrosion is not as much as the brass ones and thus they are less durable and have a shorter life.
Quality and Finish
Gone those days of plain stainless steel stoves. Today's type of stove comes with tough and tempered glass and all kinds of fiberglass finish. They can make your kitchen look stylish. They do not just look stylish, but also easier to clean and maintain.
Of course, due to styling appearance, there is a bit hick in price. So make sure you find a model matching with your interior, so you can enjoy cooking whenever you enter your kitchen.
Easy to Clean Burners
As the kitchen hobs come in a soft and sturdy design, they're very easy to clean and maintain. Once you purchase the kitchen hobs, make sure you clean with liquid soap and water once in every week. It makes the hob look shiny and also set free from contaminated food particles, dust, rust etc.
Ignition Feature
One of the biggest changes in terms of changing old stoves to modern stoves. There was a time when we used to use a standard gas stove with a lighter. But with the idea of a new style come with a built-in igniter at an affordable rate. A simple rotation of the dial and the stove lights up.
Pan Support
Pan Support is the most important because it keeps you large pans and cookware and gives excellent stability and safety. Before considering any hob, make sure to check the pan support made from cast iron since it is very durable.
Frequently Asked Questions [Best Gas Hobs In India]
Q. What is the ideal size of a hob?
Ans: Generally, the hobs are available from 60 cms to 90 cms, but the most preferred size is 60 cms. It is pretty much suitable for a family consisting of 4-6 members to cook a variety of dishes. But, mostly the size of the kitchen hob depends upon the space in your kitchen, burners, a number of persons in a family to cook food etc.
Q. How long do gas hobs last?
Ans: The lifeline and working efficiency of a gas hob depend on the quality of material used to build the hob and how often you clean it. If you are using an expensive hob and it has high-quality brass burners and stainless steel grills or stands, then it tends to work perfectly for about 14 to 15 years approx. or more.
If you want to increase the life and efficiency of the cooktop just keep it clean on a regular basis. Many companies also provide service visits from time to time that keep the hob good to go for years.
Q. Are hobs good for cooking?
Ans: As most of the Indian households have been using normal cooktops, it is a thing to think about when changing to hobs. But bothhob and cooktop work the same and there is no harm in using the two.
It's just hobs are installed in the kitchen counter which conceals all the pipes under it and it requires the installation team. Whereas cooktops are freestanding which is placed on top of the counter. The reason why people are choosing hob is the modern look it gives to the kitchen.
Q. Which one is the best-induction or ceramic hob?
Ans: Induction hob will be the wise choice than a ceramic hob. Because the ceramic kitchen hob performs the activities like heating up very quickly of the entire cooking zone. However, induction hob heats the pan and not the hob which saves a lot of time and energy.
Q. What are the kitchen hob brands in the market?
Ans: The best selling kitchen hob brands include Prestige, Bosch, Elica, Lifelong, Glen and much more. Among them, Prestige and Elica have the biggest share in the market.
Q. Do black glass hobs scratch?
Ans: Yes, the black glass top of hobs also gets scratches when used harshly. Some glass tops have very tough and thick glass that can bear weight or use of any sharp thing up to some extent but if you clean the glass top regularly with a metal bun to scrap off the spill then after some time it can get scratches.
To avoid such things be careful the with a type of utensils you put on the glass. If you put a very hot substance on the glass it may crack too. You can clean the glass surface with some vinegar or glass cleaner.
Q. Are gas hobs safe?
Ans: Yes, hobs are completely safe. We have heard about the concerns of gas emissions and chemical emissions from them, but let us tell you one thing that these concerns are completely baseless. Many prominent scientific people have conducted numerous tests on hobs and have found them to be absolutely safe.
Q. Which is better 3 burner or 4 burner gas stove?
Ans: In general, most Indian households prefer 3 to 4 burner gas stoves. Most of the houses have 4 burner stoves in their kitchen. … So, it is wise to go for maximum 3 burner gas stoves. But if you have up to 5 members, you can go for 4-burner gas stoves to save a lot of your time.
Q. Which one is the best-induction or ceramic hob?
Ans: Induction hob will be the wise choice than a ceramic hob. Because the ceramic kitchen hob performs activities like heating up very quickly of the entire cooking zone. However, induction hob heats the pan and not the hob which saves a lot of time and energy.